Lot 5 - Land for Sale in Southeastern New Brunswick, Canada.
A lovely 4.5 acre (1.8 acre) parcel of land for sale in the Southeastern New Brunswick countryside. This surveyed parcel offers 59 meters of road front on the all season Coburg Road. Depth of this parcel measures 285 meters. The ocean and several seaside communities are just a few minutes away. This is a wonderful location and a perfect size lot for a homestead, recreation and hobby property offering plenty of privacy in a friendly community. Sorry this land is SOLD.

| | |
| --- | --- |
| Lot Size: | 4.5 acres |
| Location: | Lot 16-5 Coburg Road, in the Province of New Brunswick, Canada |
| Reference #: | NB-165 |

Land located at Coburg, in the Parish of Westmorland, County of Westmorland, and Province of New Brunswick. Lot 16-5 on Survey Plan.
SIZE: 4.5+/- acres = 1.8+/- hectares
- Recently surveyed.
- 59.0 meters (193.6 feet) roadfront on Coburg Road.
- 285 meters (935 feet) deep.
- Borders Coburg Road - a quiet stretch of country road.
- Electric and phone available.
- Excellent access from the Trans-Canada Highway.
- Great hunting, fishing, outdoor activities on the land and area.
- 5 to 10 minutes from the seaside communities of Baie Verte and Port Elgin.
- 20 minutes to Cap Pele along the Northumberland Strait where you can enjoy the beautiful sandy shores and fresh locally caught and prepared seafood.
- 20 minutes to the University Town of Sackville.
- 40 minutes to the Oceanside town of Shediac - known as the Lobster Capital of the World, and home of one of the nicest sand beaches in New Brunswick.
- 40 minutes to the City of Moncton and Greater Moncton International Airport.
Summertime fun along the shores of Northumberland Strait.
This is an excellent location for a seasonal vacation cabin, hobby farm - a parcel where you may raise horses.


Coburg Road, New Brunswick.
The land is easily accessed from the Trans-Canada Highway. Turn onto Coburg Road and follow for 2.4 kilometers (1.4 miles) along Coburg Road to the land on your left - lot signs are posted at roadside and property boundary lines are clearly marked. This quiet stretch of country road is lightly settled with homes, farm land, open fields, horse pastures, tree farms, woodland, and seasonal camps.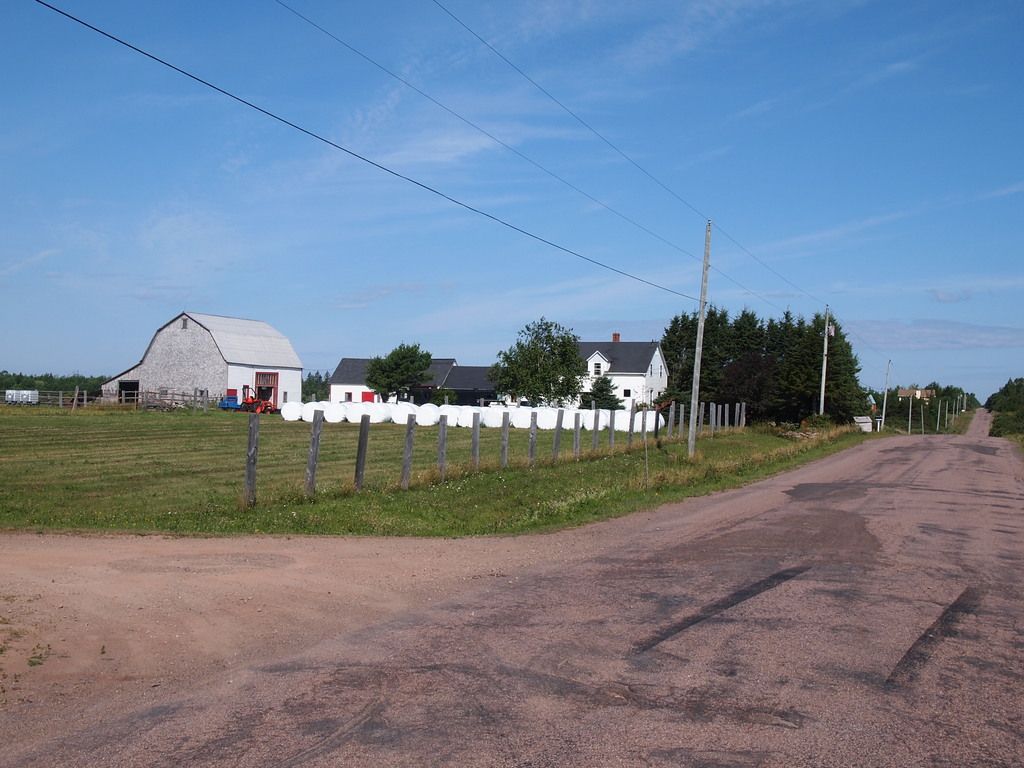 Coburg Road to your land.

The southwesterly boundary of your land follows McNab Brook for approximately 64.6 meters (211.9 feet) - a small brook that runs West to East, meandering its way through surrounding woodlands to Baie Verte and the Northumberland Strait. The brook and land supports an abundance of wildlife - from beavers, moose, deer, rabbits, grouse and waterfowl. For the hunter, fisherman and outdoorsman this is an absolute paradise - there are endless miles of backroad trails and woods roads for ATVing and snowmobiling at your doorstep.
Snowmobiling on the Trans-Canada Trail between Cape Tormentine and Port Elgin.
Approximately one acre of the lot by roadside was recently brush mowed to open up the land and kick start future development as well as show lay of the land. The ground is well draining and gently sloping - perfectly suited for residential and vacation living, as well as hobby farming.

Aerial view showing the Lot 5 (Lot 16-5) boundaries. 4.5 acres or 18210m2 in size.
Looking into Lot 5 (Lot 16-5) from Coburg Road. We recently cleaned up an acre of land by the road.
Coburg and Coburg Road has many positive attributes, making this an excellent location for your future home, vacation site, investment in raw land in Canada…

- Easy access to main roads and a fantastic highway system providing easy access to several communities, University, airport, health care and coastline.
- This is a growing rural community with improving infrastructure.
- A healthy and clean environment for you and your family.
- Room to develop your land exactly as you like.
- No restrictive covenants and no obligations on your land - you may build and improve your land whenever you are ready, or not at all.
- Full ownership. Sell the land at any time or pass it on to your children.
Neighbouring property on Coburg Road.


The nearby small communities of Baie Vert and Port Elgin offer friendly hospitality and general supplies; and with the warm ocean waters of Baie Verte and the Northumberland Strait so close, watersport and beach activities are very accessible.
Nearby Port Elgin, New Brunswick.
Sorry this land is SOLD. To view more properties similar to this, visit our New Brunswick property list, here.
--------------------------------------------------------------------

WOLTER LAND ESTATES OFFERS:
* GUARANTEED FINANCING - LOW DOWN AND LOW MONTHLY PAYMENTS
* 10% DISCOUNT IF BALANCE PAID IN FULL WITHIN 30 DAYS OF PURCHASE
* MAKE EXTRA PAYMENTS WITHOUT PENALTY
* 7% DISCOUNT FOR EARLY PAYOUT AT ANYTIME DURING FINANCE PERIOD
* PAYMENT ACCEPTED: CREDIT CARD / PAYPAL / PERSONAL CHECK / MONEY ORDER

If you have any questions, please ask, we are here to assist!